Learn Snowkite with Kite Legend Snowkite School
Learn Snowkite with Kite Legend Snowkite School
Kite Legend Snowkite School is the best place to learn how to snowkite. Contact us for more informations to learn how to snowkite this winter!
Our spot
We're located in one of the best spot in the world: Col du Lautaret  in the Alps. At 2058 meters above sea level we benefit from very good snow conditions beginning in November through to May. And all this is easily accessible thanks to a good road, provided your car is equipped for winter conditions. We are very close to Briançon so it's easy to access by train. Serre Chevalier is 15 minutes away and it is one of the biggest ski resorts in France and Europe. Serre Chevalier covers 250 kilometres of pistes, at altitudes of between 1200 and 2800 metres, for everyone from beginners to expert skiers! But why to use the lift when you can climb the moutain with a kite and the wind...
Due to the fact that the Lautaret pass is an extraordinary place from a demographic and climatic point of view, we enjoy frequent and steady winds as well as plenty of open space.
Our chalet
Our school is located in a chalet, right on the spot! Amazing place to learn how to snowkite. Our spot works in every wind directions!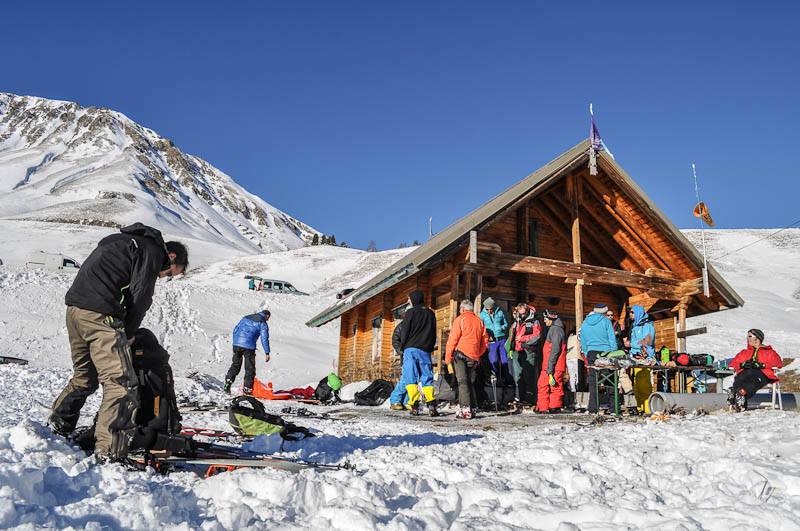 Our intructors
RÉMI BORGIOLI
Snowkite guide State-licensed ski instructor and director of the snowkite school Kite Legende, he has evolved at the Lautaret pass and in les Hautes Alpes since the outset of snowkiting. As an expert in snowkite touring he will be your guide to discover the most beautiful kiting spots in France and abroad.
ALEX ROBIN
Teacher trainer Alex's internet site. He studied sport- related medical care. Alex leans towards freestyle, a field in which he has a lot of experience and a lot of wins to his name on all terrains (land, water and snow). He will be the one teaching you the mad tricks...
How to book a lesson? 
We teach how to snowkite since 2006 and we have students from November to May. Please contact us by email or give us a call to book a lesson! +33 6 79 20 08 56
How much it cost to learn how to snowkite?
DISCOVERY
You will discover the thrill of being towed on the snow in group courses of four people maximum. It's the ideal option to start sliding fast without bothering about the setup of the gear. Sliding guaranteed from the first hour session.
Per person / 1 hour : 50€
Per person / 2hours : 90€
Per person / 3 hours : 110€
AUTONOMY
At the end of this course you will be able to choose a spot, to choose the right gear, and to practice snowkiting safely on skis or a snowboard autonomously.
Per person / 3 half-days : 270€
Per person / 5 half-days : 420€
The meeting point is at the school's "chalet" at the Lautaret pass. Courses begin at 10.30 am (from the 11th of November to the 1st of February) at 10 am (from the 1st of February to the 11th of May).
The school provides all the kiting gear (helmet, walkie-talkie, harness, kite) you have to bring your own ski equipment (skis or snowboards + boots).
Do you do kite rental?
Yes! But you need to be a snowkiter. You can't rent a kite if you don't know how to snowkite. If you know how to snowkite we have recent kites and harness to rent under supervision.
PRICES
High season/ low season : half day 40€/30€
High season/ low season : full day 60€/50€
Why to learn how to snowkite?
You can go down and up the mountain! So you don't need any lift or ski station. It's just the mountain, your friends and you! Your ride all the times, no waiting line for the lift anymore 😉
Is it easier than kitesurfing?
Sensations are very similar to kitesurfing - but it's a lot easier to learn because you don't need strong wind for snowkiting. You don't need to float! That is why it is a good way for beginners to start learning how to kite. The steering of the kite first takes place on foot on snow. Then on skis you will naturally start sliding, the fact that you are upright on snow makes it quite easy. You will already be standing up straight, no need to haul yourself out of the water.  
Snowboard or Ski?
You can use both but it is generally easier to get started on skis. Snowboard will be a little bit more challenging but still a lot of fun!